KERRY KATONA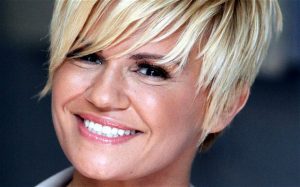 Kerry Jayne Elizabeth Kay (née Katona, formerly McFadden and Croft; born 6 September 1980) is an English singer and media personality best known for her television work, predominantly in light entertainment and reality shows. She is a member of girl group Atomic Kitten.
Katona was the winner of the third series of I'm a Celebrity…Get Me Out of Here! in 2004 and runner-up of Celebrity Big Brother 8 in 2011. On 21 November 2012, Katona confirmed she had rejoined Atomic Kitten, replacing Jenny Frost.
Born in Warrington, Cheshire, Katona is of part Hungarian ancestry.
Career
In 1999, 18-year-old Katona rose to fame as a member of Atomic Kitten, an all-female pop trio created by Orchestral Manoeuvres in the Dark frontman Andy McCluskey. The other original members were Natasha Hamilton and Liz McClarnon. Their debut single, "Right Now", was released in late November 1999 and reached #10 on the UK Singles Chart. Their second single, "See Ya", followed in March 2000 and was an even bigger success, reaching #6. Following this initial success, Atomic Kitten performed an Asian tour and scored their first #1 hit there with "Cradle". The album, Right Now, was first released in Japan on 16 March 2000, and subsequently released in the United Kingdom on 23 October 2000 following the release of two further singles, "I Want Your Love" and "Follow Me", with a slightly modified tracklist. In 2000, the group also recorded a cover version of "The Locomotion" for the movie Thomas and the Magic Railroad.
Right Now was unsuccessful upon its first release, peaking at only #39 in the UK album chart. Initially, there were no plans to focus on the global market and Atomic Kitten's record label, Innocent Records, was even considering dropping them because of their limited success. However, the record company were persuaded to allow the group to release one more single from the album. That single, "Whole Again", became their first #1 hit in the United Kingdom and stayed at the top for 4 consecutive weeks. Due to this success, "Whole Again" was released globally and reached #1 in 18 other countries, including 6 weeks in Germany and New Zealand. The song and video for "Whole Again" originally featured Kerry Katona but she left the group several days before the single's release because she was pregnant. Former Precious singer Jenny Frost replaced Katona in the lineup and the single was re-recorded.
After marrying Brian McFadden and taking his surname, Katona moved into television work, appearing on and presenting a mix of light-entertainment programmes such as Britain's Sexiest…, Loose Women, and elimiDATE. In February 2004, she won the third series of the British reality TV show I'm a Celebrity… Get Me Out of Here!. That July, she and McFadden appeared as judges on the RTÉ talent show You're a Star, which was used to select the Republic of Ireland's Eurovision Song Contest entry. On separating from McFadden in September 2004 she reverted to her maiden name.
In July 2005 Katona starred in My Fair Kerry on ITV, where she was taught airs and graces to transform herself from ladette to lady. She also starred in an Irish drama called Showbands that year.
Between 2007 and 2009, Katona was the subject of three MTV reality shows: Kerry Katona: Crazy in Love, Kerry Katona: Whole Again, and Kerry Katona: What's the Problem? From a peak audience of 500,000 for Kerry Katona: Crazy in Love, viewership for Kerry Katona: What's the Problem?, a series about Katona's bipolar disorder, slumped to just 19,000 and MTV dropped her in August 2009.
Katona's reality show Kerry Coming Clean aired on 24 June 2010. The documentary covers the tribulations of Katona's separation from Croft and signing with Peter Andre's management company Can Associates. Katona also featured in two series of Kerry Katona: The Next Chapter. Katona was a contestant on Dancing on Ice Series 6 with English ice skater Daniel Whiston. They were eliminated in week 5 in a skate-off against Jeff Brazier and partner Isabelle Gauthier.
Katona was the first housemate to enter the Big Brother House for the 2011 series of Celebrity Big Brother alongside Amy Childs and Tara Reid and others. She was voted the runner-up in the final after Paddy Doherty on 8 September 2011.
In June 2012 Katona performed at Birmingham's Gay Pride singing some of her Atomic Kitten hits including Whole Again and Right Now. It was the first time in over 11 years that Katona performed.
However, it was announced on 18 October that the original members of Atomic Kitten would reunite for an ITV2 series along with other pop groups of their era, including B*Witched, Five, Liberty X and 911.
On 20 November, the girls were spotted leaving a recording studio together. The Daily Mail reported that they were seen filming their reformation for The Big Reunion. Katona later confirmed on 21 November in an interview on This Morning that she had rejoined the group and replaced Frost.